Tanja Alfirević
dr.med.dent.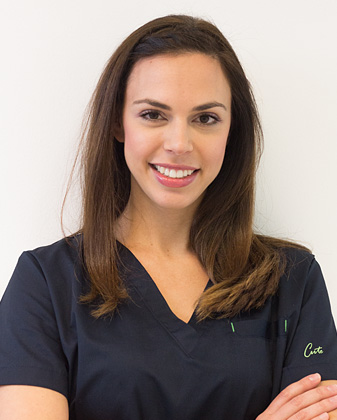 She was born on 01.10.1988 in Split, where she finished elementary and high school. The Faculty of Stomatology, University of Zagreb, she enrolled in 2007 as one of the top 10% of candidates in the entrance examination. As an excellent student during her six years of study, she received the Dean's Award for the academic year 2009/2010.
During the six years of study, she was a student assistant at the Department of Histology with embryology at the Department of Morphology as well as a member of the "Tooth Fairy" (established through a dental medicine student project of the University of Zagreb) dealing with the education of children about oral health and oral hygiene with the objective to reduce dental fear and preventing caries. In 2010 she participated in the MFF international student training course at Chiemsee Akademie, Seebruck, Germany, a student exchange seminar for implantology.
During her studies, she was active in science; wrote a review article on the topic "The use of piezoelectric devices in oral surgery" which was published in the journal Medix and a work on the subject "Assessment of the quality of life of patients after surgical removal of small cysts in the jaw" which was translated and published in the Research Journal of Pharmaceutical, Biological and Chemical Sciences. She graduated in time on 04.07.2013 and made a compulsory internship and passed the State exam.
She speaks Italian and English, and in her spare time she is actively engaged in sports. Her fields of interests and work are aesthetic dentistry and prosthodontics.